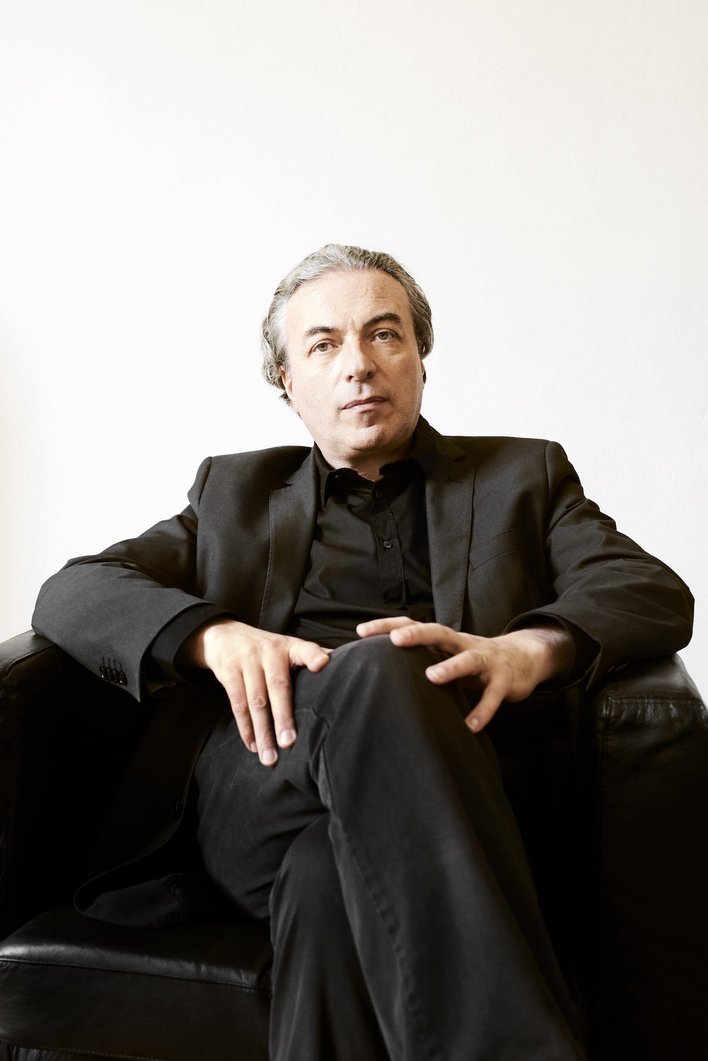 BORN IN BOLOGNA IN 1956, HE EARNED HIS MASTER DEGREES IN COMPOSITION WITH CAMILLO TOGNI AT THE PARMA CONSERVATORY OF MUSIC, IN CONDUCTING WITH OTMAR SUITNER AT THE HOCHSCHULE FÜR MUSIK UND DARSTELLENDE KUNST IN VIENNA, AND IN MODERN PHILOLOGY AT THE BOLOGNA UNIVERSITY, WHERE HE TRAINED UNDER THE SUPERVISION OF EZIO RAIMONDI.
THE WORKS OF BRUNO MADERNA AND LUIGI NONO WERE FUNDAMENTAL FOR THE DEVELOPMENT OF HIS POETICS. WORTH TO BE MENTIONED ARE HIS ACQUAINTANCES WITH TITO GOTTI AT THE BOLOGNA CONSERVATORY OF MUSIC AND WITH BOGUSŁAW SCHAEFFER AT THE MOZARTEUM UNIVERSITY IN SALZBURG, WHICH MARKED THE BEGINNING OF HIS ACTIVITY AS A COMPOSER.
SINCE 1983 HIS CHAMBER MUSIC COMPOSITIONS WERE RECORDED BY THE AUSTRIAN RADIO AT THE ORF-LANDESSTUDIO SALZBURG, FOLLOWED BY THE ELABORATION OF TWO PIECES FOR SOLO INSTRUMENTS AND COMPUTER MUSIC AT CENTRO DI SONOLOGIA COMPUTAZIONALE OF THE PADUA UNIVERSITY (PER LO DOLCE SILENTIO DE LA NOTTE, AND INTERMEDIO I).
IN 1988 AND 1991 HE RECEIVED COMMISSIONS FROM THE EUROPÄISCHES MUSIKFEST STUTTGART (DUE NOTTURNI D'OBLIO, FOR SOLO VIOLA D'AMORE AND NINE INSTRUMENTS; SETTE FRAMMENTI DAL KYRIE PER DINO CAMPANA, FOR SOLI, CHOIR AND ORCHESTRA), HIS PIANO TRIO A LA DOLCE OMBRA WAS AWARDED IN AVIGNON AND A FIRST MONOGRAPHIC CD WITH HIS CHAMBER MUSIC WAS RELEASED IN MUNICH (PROVIVA 1988).
AFTER A COMPOSER'S PORTRAIT IN SALZBURG (ASPEKTE FESTIVAL, 1989), VARIOUS PIECES OF HIS HAVE BEEN COMMISSIONED AND PREMIERED AT THE MOST PRESTIGIOUS MUSIC FESTIVALS, INCLUDING WIEN MODERN, THE WARSAW AUTUMN, ZEITFLUSS SALZBURG, KLANGFORUM WIEN, MELOS ETHOS BRATISLAVA, ROMAEUROPA, THE CENTRE DE CRÉATION MUSICALE IANNIS XENAKIS.
IN 1992, IN PERUGIA, HE WAS INVITED TO TAKE PART IN A PERFORMANCE OF MUSIC WALK UNDER THE DIRECTION OF JOHN CAGE. SIEGFRIED MAUSER PRESENTED HIS COMPOSITIONS AT THE BAYERISCHE AKADEMIE DER SCHÖNEN KÜNSTE IN MUNICH. HIS WORK VOR DEM SINGENDEN ODEM WAS INTERPRETED BY VARIOUS ENSEMBLES, A. O. THE OENM SALZBURG AT MILANO MUSICA AND EX NOVO ENSEMBLE AT TEATRO LA FENICE, BOTH BROADCASTED BY THE ITALIAN RADIO RAI 3.
AS A SCHOLAR IN COMPARATIVE LITERATURE, WHOSE MAIN AREA OF RESEARCH IS INTERMEDIALITY BETWEEN MUSIC, LITERATURE, AND THE VISUAL ARTS, HE WAS INVITED TO HOLD SEMINARS AND CONFERENCES BY SEVERAL EUROPEAN AND OVERSEAS UNIVERSITIES (BOLOGNA, CRACOW JAGELLONIAN, EDMONTON ALBERTA, FERRARA, LEIDEN, MILAN CATTOLICA, MARYLAND AT COLLEGE PARK, NICE SOPHIA-ANTIPOLIS, PAVIA CREMONA, ROME TOR VERGATA, TURIN, VERONA, VENICE CA' FOSCARI) AS WELL AS BY MUSICAL INSTITUTIONS LIKE THE ARTURO TOSCANINI FOUNDATION, THE ITALIAN CULTURAL INSTITUTE IN WASHINGTON DC, THE ST. PETERSBURG STATE CONSERVATORY AND THE ACCADEMIA DEL TEATRO ALLA SCALA IN MILAN. IN 2020 HE WAS APPOINTED HONORARY MEMBER OF THE ITALIAN SOCIETY OF COMPARATIVE LITERATURE SICL.
IN ITALY, HE HAS RECEIVED COMMISSIONS AS A COMPOSER FROM TEATRO LA FENICE IN VENICE, TEATRO COMUNALE DI BOLOGNA, FESTE MUSICALI, THE ARTURO TOSCANINI FOUNDATION, FESTIVAL PONTINO, BOLOGNA FESTIVAL. HIS MUSIC WAS REVIEWED BY MOST PROMINENT ITALIAN CRITICS, LIKE MARIO BORTOLOTTO, MARIO MESSINIS, GIAN PAOLO MINARDI, PIERO MIOLI, GIORDANO MONTECCHI, GABRIELE MORONI, PAOLO PETAZZI, ALESSANDRO TAVERNA.
HIS COMPOSITIONS HAVE BEEN BROADCASTED BY SEVERAL RADIO STATIONS IN EUROPE, JAPAN, AND THE UNITED STATES AND PUBLISHED BY PRO NOVA IN MUNICH, RAI TRADE IN ROME AND THE TEATRO LA FENICE FOUNDATION IN VENICE.
HIS FIRST CONCERTS AS A CONDUCTOR TOOK PLACE IN 1981 AT THE DEUTSCHE STAATSOPER IN BERLIN UNTER DEN LINDEN AND AT THE GROßER SENDESAAL OF THE AUSTRIAN RADIO IN VIENNA, FOLLOWED IN 1983 BY HIS ITALIAN DEBUT WITH THE DRESDNER PHILHARMONIKER, AND HIS DIPLOMA CONCERT IN VIENNA WITH THE TONKÜNSTLER-ORCHESTER AT THE GOLDEN HALL OF THE WIENER MUSIKVEREIN (ADAGIO FROM MAHLER'S 10TH SYMPHONY).
THEREAFTER, HIS ACTIVITY AS A CONDUCTOR WAS FOCUSING MORE AND MORE ON THE LATE NINETEENTH- AND TWENTIETH-CENTURY REPERTOIRE, AS WELL AS TO CONTEMPORARY MUSIC, INCLUDING SEVERAL WORLD PREMIERES, AND FIRST PERFORMANCES. SINCE 1989 HE IS TENURED PROFESSOR FOR ORCHESTRA AND ORCHESTRAL STUDIES AT THE BOLOGNA CONSERVATORY OF MUSIC.
AS A GUEST CONDUCTOR, HE HAS BEEN INVITED BY MANY EUROPEAN ORCHESTRAS AND INSTITUTIONS (A. O. ORCHESTRA DEL TEATRO LA FENICE IN VENICE, TEATRO COMUNALE DI BOLOGNA, SÜDDEUTSCHER RUNDFUNK, ORCHESTRA SINFONICA ARTURO TOSCANINI, ÖSTERREICHISCHES ENSEMBLE FÜR NEUE MUSIK SALZBURG, KAMMERENSEMBLE NEUE MUSIK BERLIN, WIENER KONZERTHAUS, TEATRO REGIO DI PARMA, NUOVA CONSONANZA, ROSSINI OPERA FESTIVAL), AND SINCE 2006 HE COLLABORATES AS A COMPOSER AND GUEST CONDUCTOR WITH THE EX NOVO ENSEMBLE IN VENICE (MILANO MUSICA, MITO SETTEMBRE MUSICA, GUSTAV MAHLER MUSIKWOCHEN, EX NOVO MUSICA).
IN JUNE 2012, IN A CEREMONY AT THE PRESENCE OF THE PRESIDENT OF THE ITALIAN REPUBLIC GIORGIO NAPOLITANO, ALBERTO CAPRIOLI WAS AWARDED THE "LEONARDO PATERNA BALDIZZI" INTERNATIONAL PRIZE FOR MUSIC BY THE ACCADEMIA NAZIONALE DEI LINCEI IN ROME.
IN FALL 2016 HIS ODE ALLA LUCE, FOR ORCHESTRA WAS FIRST PERFORMED UNDER THE DIRECTION OF MARCO ANGIUS DURING THE FIRST EDITION OF THE "BOLOGNA MODERN" FESTIVAL AT TEATRO COMUNALE DI BOLOGNA. DURING THE SAME FESTIVAL NICOLA SANI, TOGETHER WITH MAURIZIO GIANI, STEFANO LOMBARDI VALLAURII, AND ALESSANDRO TAVERNA PRESENTED HIS NEW MONOGRAPHIC CD "ALBERTO CAPRIOLI – ARIA BIZANTINA", RELEASED BY STRADIVARIUS IN MILAN. IN DECEMBER 2016 THE SAME CD WAS PRESENTED IN VENICE BY CLAUDIO AMBROSINI AND MARIO MESSINIS AT ATENEO VENETO.
IN 2017 HE WAS INVITED TO CREATE AND CONDUCT AN INTERMEDIA PROJECT BASED ON FRANZ SCHUBERT, LUIGI NONO, CARLO SCARPA, AND JOHN CAGE FOR THE DINO GAVINA EXPOSITION OF THE BOLOGNA DESIGN WEEK. HIS ADAGIO ESTATICO, FOR SOLO VIOLA WAS FIRST PERFORMED BY ALBERTO BELLI DURING THE 2017 EDITION OF BOLOGNA FESTIVAL, "IL NUOVO E L'ANTICO. STOCKHAUSEN DIECI ANNI DOPO".
IN 2018 HE WAS INVITED AS A MEMBER OF THE JURY OF THE INTERNATIONAL COMPOSERS' COMPETITION "PREMIO TRIO DI TRIESTE". THE EX NOVO ENSEMBLE PREMIERED IN VENICE HIS LE SOTTILI ARIE DEL CIELO, FOR INSTRUMENTS AND VOICES OF SIX PERFORMERS, COMMISSIONED BY TEATRO LA FENICE AND BROADCASTED BY RAI RADIO3.
MARI KIMURA INTERPRETED HIS GILLES FOR VIOLIN AND LIVE ELECTRONICS IN SIENA DURING HER SOLO MULTIMEDIA CONCERT AT THE 2019 EDITION OF THE CHIGIANA INTERNATIONAL FESTIVAL.
IN 2020 HIS COMPOSITION VOR DEM SINGENDEN ODEM WAS PERFORMED BY THE EX NOVO ENSEMBLE AND CLAUDIO AMBROSINI AT THE 64TH INTERNATIONAL FESTIVAL OF CONTEMPORARY MUSIC OF THE VENICE BIENNALE.